The Sun UK bets on Air & Sex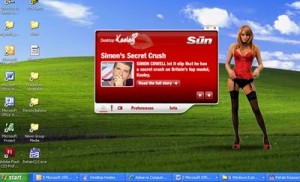 Sex in advertising is the use of sexual attraction as a tool of persuasion to draw interest to a particular product, for purpose of sale. Gallup & Robinson, an advertising and marketing research firm reports that in more than 50 years of testing advertising effectiveness, it has found the use of the erotic to be a significantly above-average technique in communicating with the marketplace. 
The Sun, a UK newspaper decided to develop a desktop RSS reader to push their news and highlights; now that's a boring idea. Why would you download yet another RSS reader? Maybe because this one has Keeley Hazell, a Sun page 3 model that usually involves her appearing topless or on a nice tasteful lingerie.
The Sun hired Glue London to create Desktop Keeley , a slick, well designed AIR based RSS reader with a little extra twist: if you get bored of reading the latest news you can click the 'come out to play' option and Keeley will show up with wearing lingerie or a bikini. 
This is one of many new applications that leverage the power of Adobe AIR to deliver rich experiences to the desktop, which easily allows to leverage the ease and power of Flash and build desktop applications that seamlessly run on Mac and PCs (soon linux). The application as simple as it is makes use of Flash, chroma key transparencies, rss web services, and offline storage using sqlite. Definitely worth checking it out.