Microsoft + Seinfeld + Gates = FAIL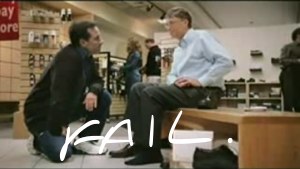 There's a fine line between crazy and genius and CPB's new Microsoft has drawn some attention and criticism at least in the advertising community. The common consensus is that it was a disaster, but is there more to it? As nicely said by nowpublic:
The widespread consensus: Microsoft + Jerry + Bill = FAIL. The result: Gates + Seinfeld = CANCELLED. The Microsoft version: it was all part of the plan.
So would you believe that they paid Seinfeld $10MM for two ads? Are they bringing him back later? Is this really going somewhere?
A Microsoft spokesperson said that Microsoft was launching its "largest consumer focused marketing campaign in its history" that it hopes "will engage consumers about the broader value of the Windows brand."
Microsoft's new adverts that will feature a brown-suited company engineer who resembles John Hodgman – the comedian who plays the unfashionable PC character in the "PC vs Mac" ads. Other adverts will include cameo appearances from Bill Gates, as well as celebrities like Desperate Housewives actress Eva Longoria, hip-hop star Pharrell Williams, and the author Deepak Chopra.
It won't be hard to make anything better or more successful than the line they drew with the two Seinfeld ads (Shoe Circus and New Family ). Anyone wants to take a wild guess at CPB's overall strategy?